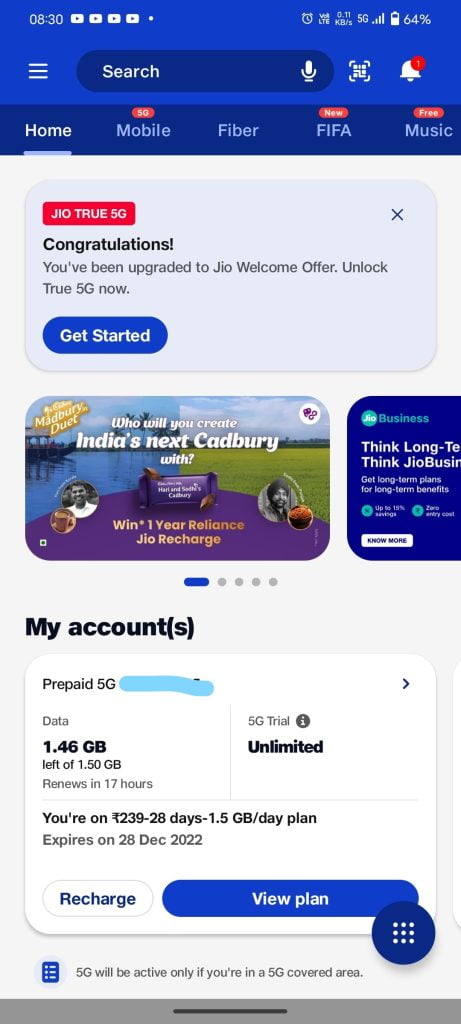 JIO 5G Trial Offer
Hello, friends welcome to the world of 5G. Today in this article I am going to share my experience with JIO 5G in Noida. Before sharing the rich experience of 5G in Noida Uttar Pradesh, I need to tell you that or availing the JIO 5G trial offer you must have a JIO plan of Rs 239 or above then only you are eligible for availing the trial offer. Also, it depends on your location and luck.
Requirements needed for JIO 5G trial offer.
For JIO 5G trial invitation you must have a working JIO plan of Rs 239 or above.
And a 5G-enabled handset with 5G network settings.
Your location must have JIO 5G towers (SA- Standalone 5G ) or upgraded JIO 4G towers (NSA-Non standalone 5G)
And the fourth and last thing required is your luck. I don't know whether JIO is going to give this 5G trial offer to all or not.
So, if you have all these things and are lucky like me you will get JIO 5G Trial.
I am also going to share with you the JIO 5G trial speed. I have taken screenshots from my device. You can go through them.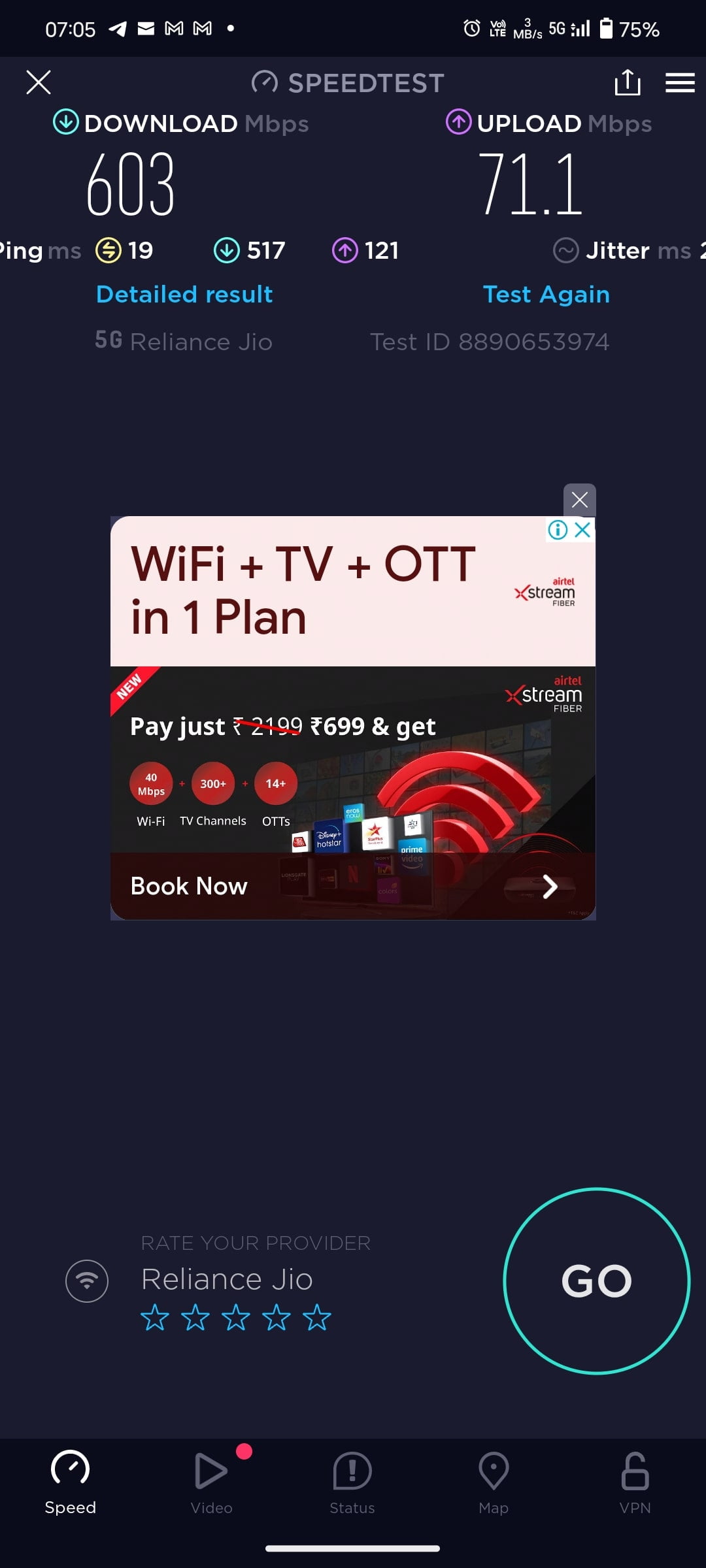 JIO 5G trial Noida
I check JIO 5G trial speed on the app Speedtest by Ookla. And the results were obviously good. The download speed was 603 Mbps and the Upload speed was 71.1Mbps. And the best thing was latency only 19 milliseconds. In 4G it is around 40-50 milliseconds. Latency is the best thing that will improve in 5G.
I am not sure this is the actual 5G speed. The actual speed of 5G is much higher. But I think since this is a trial offer the speed might be limited. You will get the actual speed when you will pay for the speed from your pocket.
Settings on my phone while using 5G
I am using IQOO 9T 5G
Go to settings-Network & Internet- Sim card & mobile network- SIM1
Preferred network type- 5G(preferred)
5G network mode- SA(preferred)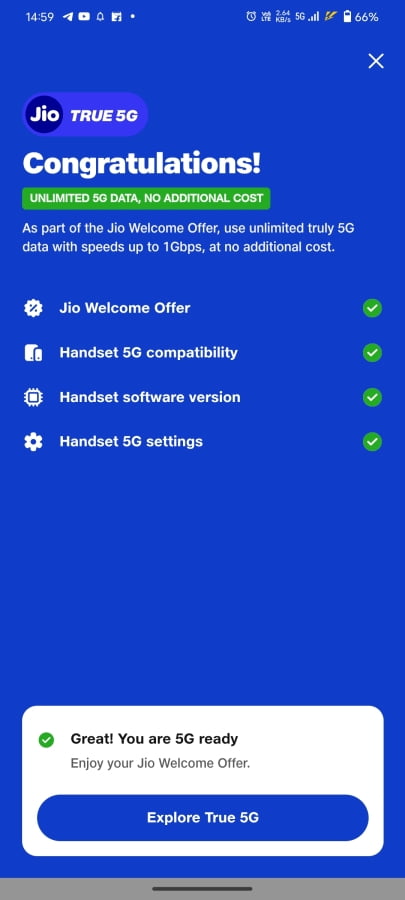 How to check if you have been selected for JIO 5G trial offer?
It is very simple, if you have followed all the steps above you might get JIO 5G trial offer. For checking the same you need to have my JIO app installed on your phone. Just go to my JIO app and in-home section you will see a message JIO TRUE 5G Congratulations! You've been upgraded to Jio welcome Offer. Unlock True 5G now. 5G Trial- Unlimited.  On the mobile tab, you can also see the 5G trial Unlimited.
JIO calls its 5G TRUE 5G because there are partial versions of 5G also available in the market. In brief, what I can tell is that NSA is basically a 4G version of 5G this is not True 5G. Speed in NSA will be slower than TRUE 5G (SA) but it will have better coverage.
On the other hand, SA is the actual 5G. For getting the actual speed of 5G you must use SA bands. But at the same time, it will have poor coverage or range. For more details, you can read about NSA(Non-Standalone 5G) and SA(Standalone 5G).
Conclusion
In my view upgrading to 5G is a thrilling and enjoyable moment for me. I was waiting eagerly for the moment and I get the moment on 07 Dec 2022 in Noida. I bought my flagship mobile IQOO 9T 5G with the latest Snapdragon processor (At that time) well in advance and was fully loaded to get 5G. I did many tests and research on this 5G network of JIO. If you have any queries feel free to comment I will reply to you definitely. Thanks for reading this article and congratulations you are now using 5G.