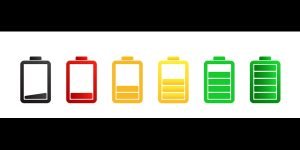 How to increase battery life iPhone/Android? How to increase cell phone battery life? How to increase battery life on iPhone? How to increase iPhone battery health? How to increase battery health in iPhone? All these questions will be answered in detail in this article. The technology behind the battery is not yet so developed in my view. We have seen people facing low battery issues while traveling. What we can do in those situations is to change settings in our phone to use less battery. Or simply do not use it. Which is very difficult nowadays.
How to increase battery life iPhone/Android phones?
Update to the latest software
Updating to the latest OEM (Original Equipment Manufacturer) software is a must. If you are not upgrading it you can be a victim of hackers and other performance issues. The latest software release is on the basis of previous bugs found. So, without any delay always upgrade to the latest software.
If an update is pertaining to performance your battery life will definitely improve. Just go through the release note of the update launched, you will get the full details of the update.
Avoid extreme ambient temperatures
Use and store your device in the specified environment only. You can refer to your phone manufacturer's website for checking the details of the temperature under which your phone will work normally.
Your phone is not a military graded phone which will withstand all extreme temperatures. So, try to use and store your phone at ambient temperature.
Always use a certified charger with your phone
Most of the phone available in the market comes with their rated and certified charger. The original charger which comes with your phone is always best for your phone battery.
A bonus tip Never charge above 95 percent and discharge below 5 percent. Suppose your phone battery percentage goes to 20 percent wait for the next charging cycle till the battery percentage goes to 10 percent. Some people keep on charging their phone to keep it fully charged always. this is not a good practice.
Though there are many overcharging protection circuits are available in your phone nowadays still try to prevent overcharging, to increase your device life.
When Storing your phone for long then keep it half-charged
Phone storage can prove harmful to your phone if no precautions were taken. Keep your phone only 50 percent charged when storing it for a long period and recharge it every 3 months that to again 50 percent only. This will help your phone battery to go dead. If you will not charge it for a long time (6 months and more) your phone battery will go into a dormant situation. And sometimes may not even charge.
If you are switching on your phone after a long break, then charge it first. Without charging do not use a phone after a long break.
Remove certain Phone covers/cases during charging
Using a phone cover is good advice but have a look and check. Using a cover can increase your battery/ phone temperature especially during gaming and charging. If possible remove your mobile cover in these two situations. There may be a slight network coverage issue when you use a mobile cover.
You must have seen bulky mobile covers which guarantees the safety of mobile phone. They may save your phone screen but will definitely affect the network reception a bit.
Optimize your settings
There are various features available in your smartphone like proximity sensor, Gyroscope, which are generally ON. Which in turn consumes power. If you are not using these features you can disable them in the phone settings.
Many users keep their location (GPS) ON permanently. In my view, it is not required unless you are using navigation. GPS will drain your battery considerably high. So, disable it when not required.
No or less Mobile Coverage
When your service provider network coverage is poor in your region then also your battery will drain more. So have a check of the network before buying any service provider plan.
When network coverage is poor your phone will try to register in the network again and again thus power consumption increases.
Enable Low Power Mode
When you are outdoors and you did not have a power bank then it is always advisable to use power-saving mode. It will stop all unnecessary background processes. It will disable your Bluetooth, Wifi, and GPS (location facility) which will greatly save your battery life.
Enabling power-saving mode will reduce the performance of your phone and thus increase battery life.
Dark Mode Feature
Nowadays almost all phones support the Dark mode feature. In dark mode, the display screen will use less power. And it also looks premium. A large number of Dark and black mode themes are available on the Internet. I am not sure but I have read that dark mode is even good for our eyes.
The matter still needs more verification. I am not sure how helpful the dark mode feature is for saving battery life. But I have gone through many articles which say enabling dark mode consumes less power.
View Battery Usage information to improve battery life Android/iPhone
Battery usage will give you an idea about the application which is consuming the battery most. And you can have an inquiry about the application whether it's running in the background or something else is the issue.
Nowadays a variety of options is available in smartphones like Battery Status, Battery level, Battery Indicator, battery optimization, Battery and performance, Intelligent Battery Life, etc. Just search these terms on your phone you will get an idea.
Future of phone battery
The Li-ion battery is widely used in almost every mobile phone. But with the advancement of smartphones, battery consumption is increasing in phones continuously.
There must be some change in the technology of battery so that these issues can be resolved permanently. Till then we need to use mentioned settings below to improve phone battery life. I have heard that Telsa is going to have a phone which will charge from solar energy. I am eagerly waiting for the phone. This phone will be a true smartphone in my view.
Conclusion on battery life increase
All the above-mentioned tips are definitely helpful to improve battery life Android or iPhone. Battery life increase is like a dream. The rance behind the phone with a bigger battery is at its peak. but there are some constraints, we cannot go with a bigger battery in the phone. As it will result in a heavy phone. The space inside the smartphone is very limited.
Also, visit WiFi Security
Also, visit Funny WiFi Names