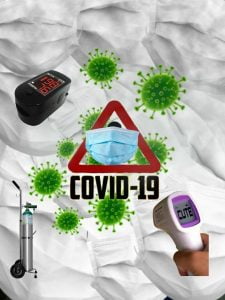 Top 5 medical gadgets for omicron. Due to the spread of the COVID-19 year, 2021 was a nightmare for the complete world. And 2022 is also starting with worries and trouble in many countries. Today, in this article we are going to tell you about the top 5 medical gadgets for omicron you can have in your home. WHO (world health organization) is continuously warning everyone with this alarming spread of a new variant called Omicron.
What we can do as precautionary measures?
Follow all the guidelines given by your local government body.
If you are still not vaccinated, go for it.
Follow your family doctor's instructions.
Use N-95 mask.
Have some handheld gadgets in your home as a precautionary measure.
Top 5 medical gadgets for omicron you must have at your home.
To Measures blood oxygen level (SPO2)
Pulse Oximeter has become one of the most common medical gadgets after this COVID pandemic. In my view, you must have it in your home. As it was observed that a COVID-19 infected patient has low SPO2 levels.
Oximeters are available easily online as well as offline medical stores. But you should go with a good branded one as their readings will be more precise.
An important point which I feel to discuss is that many smartwatches also come with the feature of measuring SPO2 (Oxygen level in blood). In my view, the reading on the smartwatch cannot be used to compare with the pulse oximeter. Always prefer an oximeter when it comes to measuring SPO2.
It measures body temperature from a distance
Contactless or IR (Infrared) thermometers can measure body temperature from a distance of 1-2 inch distance without having any physical contact with the patient. This helps reduce the chance of contamination. These thermometers can be found easily in online and offline markets.
It gives fresh and pure oxygen to the patient
Oxygen concentrators are generally used to provide extra oxygen to patients with breathing issues. And during COVID as the oxygen level in blood drops, it is a good way to provide extra oxygen to the patient. They are available online as well as offline medical stores. But, make sure to check warranty details, service network, and authenticity before buying as purchasing an oxygen concentrator is a little costly affair. It is generally used along with a pulse oximeter.
A nebulizer machine can also be very helpful for patients having coughs and colds. Always take recommendations from your family doctor before using. The device is easily available online as well as offline.
It helps to keep your smartphones and other devices free from germs and other infections.
UV stands for ultraviolet UV radiation is known as a disinfectant, and it is generally used to disinfect an object from infection. FDA says that it might also be effective against the SARS-CoV-2 virus which causes coronavirus. UV Sterilizer helps keep our mobile, gadgets, and other devices free from infection. They come in different sizes and form factors.
It can be very useful during this pandemic situation. Because we can sanitizer our hand but what about other articles which we carry? They can also become the carrier of infection if not disinfected properly.
Conclusion:
All the top 5 medical gadgets for omicron discussed in this article are to be used under the medical supervision (professional)/Doctor. We are not a professional here always consult your physician or specialist doctor before using these gadgets at your home. The above gadgets may contain affiliate links. If you purchase through the above links I may get some commission but you will not be charged extra. For more details, you can visit our affiliate disclosure in the footer below.