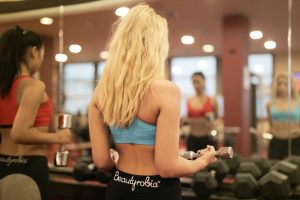 Free Workout Videos on Netflix: – Watching television has become an old fashion now. The Internet television network is the new king. It has slowly occupied the place of the traditional TV watching experience. Now you can watch your favorite TV programs anytime and anywhere on your mobile phone and smart TV.
Netflix is one of the largest internet television entertainment networks spread worldwide. Nobody likes to wait for the timing of a TV serial or program. Now the trend is serving on the spot let it be Netflix, amazon prime, Hotstar, etc. Workout videos on Netflix give you a smart way to exercise and get in shape.
Netflix Streaming Workout Videos
The health concern is now everybody needs. Everyone wants to look fit and slim. And the workout videos on Netflix are really the best way to get in shape. You only need a working Netflix plan to access those videos. These exercise videos on Netflix are given by professionals and you can just follow them blindly. You will definitely see results within a few weeks by following these fitness programs on Netflix.
You can consider these videos as free fitness classes given to you by an expert trainer. There is no need to go to the gym for fitness training if you are a regular follower of Netflix workout videos.
Does Netflix have fitness classes?
There are fitness (workout) videos on Netflix but not too many. Alternatively, you can join the live classes from your home on another platform related to fitness and workout like Amazon Prime. Below is the list of videos you are looking for and it also includes the fitness documentary Netflix. Collection of Best fitness series on Netflix.
A list of best exercise videos on Netflix
Strong is a series of 10 fitness episodes on Netflix by Gabrielle Reece. 10 women pair up with 10 elite personal trainers to complete a series of tough fitness challenges. The loser is eliminated and the winner is the strongest. Here you will be given a transformative competition of tough fitness challenges. If you are 13+ you can go for it.
Pumping Iron by Arnold Schwarzenegger
Starring five-time Mr. Olympia winner Arnold Schwarzenegger, this Netflix gym workout follows the 28-year-old's progress as he competes for his sixth title. This video is definitely going to motivate you for doing something good for your fitness and health.
Unbroken is a Netflix workout video released in 2019 and is of 1hr 33 mins and is suitable for 16+. Bodybuilder and two-time Mr. Universe, Calum von Moger, reflects on his rise to fame and battle to come back from a debilitating injury.
It is a fitness video on Netflix released in 2017 and is of 1 hr and 29 min. Doctors, farmers, chefs, and others weigh in on the controversial ketogenic diet and its potential to eradicate common illnesses. Starring: Pete Evans, William Davis
The Game Changer is a fitness program or you can say workout videos on Netflix released in 2018 of 1 hr 25 minutes. Netflix bodybuilding by Arnold. Meeting visionary scientists and top athletes, a UFC fighter embarks on a quest to find the optimal diet for human performance and health.
Starring: Arnold Schwarzenegger, Lewis Hamilton, James Wilks
Eddie- Strongman is a health /exercise videos on Netflix released in 2015 and is of 1hr 38 mins and is suitable for 16+. British strongman Eddie Hall wants to be the strongest man in the world. This documentary reveals the grueling life choices that fuel his obsession.
Starring: Eddie Hall
Released in 2017 and is of 1 hr 32 minutes and is suitable for 13+. This exercise videos on Netflix examines the link between diet and disease, and the billions of dollars at stake in the healthcare, pharmaceutical, and food industries.
Generation Iron 2 is an exercise videos on Netflix released in 2017 and is of 1hr 46 mins and is suitable for 16+. This is a new-generation bodybuilding star — including Rich Piana, Kai Greene, and Calum von Moger — who share their experiences competing in the demanding sport.
Generation Iron 3 is a fitness training/ workout videos on Netflix released in 2018 and is of 1hr 35 mins and is suitable for 16+. Bodybuilders come together from around the world to compete in the Mr. Olympia competition and try to achieve their goals of physical perfection.
It is an exercise videos on Netflix by Ronnie Coleman released in 2018 and is 1 hr and 33 mins suitable for 16+. Today, legendary bodybuilder Ronnie Coleman's body bears the scars of becoming the best in the world. Here, he shares what it took to reach his goals.
The Real Miyagi is a fitness and exercise videos on Netflix by Fumio Demura released in 2015 and is 1 hr and 21 mins suitable for 13+. A look at the life of karate master Fumio Demura shows how he spread the discipline in the West, winning countless devotees and influencing Hollywood.
Other unofficial best exercise videos on Netflix (Fitness series, workout videos on Netflix)
Functional Fitness is one of the best exercise videos on Netflix released in 2016 and is of 106 minutes. This fitness documentary explores the challenging, transformative world of high-intensity fitness programs. It is suitable for mature audiences only. This documentary is Inspiring in nature.
Bodybuilder and two-time Mr. Universe, Calum von Moger, how he become Mr. Universe and his ultimate come back after injury. Released in 2019 and lasts 93 minutes. It is for mature audiences only and is not suitable for children 17 and under. This documentary is inspiring and will make you think about your body.
The documentary Westside vs. the World was released in 2019 and lasts 96 minutes.
Also, visit Best workout videos on Amazon prime.
This fitness session promises you the results in just 30 days. This is a full-body workout for getting your shape back. You need not visit a dietarian or fitness trainer.
You just need to spend 15 mins with Denise Austin daily for a superb result. This video is for people who feel they are very busy and have no time to go through long fitness training at the gym. The only thing is you need to be regular and you will be in shape in months. Anatomy of Exercise: A Trainer's Inside Guide to Your Workout
Ellen Barrett along with two 5 lbs dumbbells will make your body ready for wearing a bikini. Its been a dream for many women to get inside a bikini. But with these sessions, you can say go bikini.
Yoga is not only good for your body its also good for your mind.
Sara Ivanhoe in her 45 mins of yoga session tells you how to have a beautiful body and mind.
This intense workout lasts for 41 to 45 minutes and you will need two 5 lbs dumbbells, a jumping rope, and a body bar. This workout is specially dedicated to the abs and back area, which is the most concerning area for getting in shape.
Fat Blasting Dance Mix- If you still feel exercising is difficult for you then music beats and dance plus aerobics will help you to get in shape. You need not require and dumbbell or equipment. You need to be regular and every session will be around 50 mins daily.
This is an elite group of one of the fittest people on this planet. No doubt it is very difficult to go like them. But you can see them and at least get motivated. They are giving 100%, you need to give at least 10%, and then see the results.
The fitness instructor Seu Hitzman has made a DVD of 30-minutes, which includes quick exercise, squats, and pushups to keep the body in shape. 5 to 10 lbs dumbbells are sufficient to perform this activity. Remember, regularity is the key. By viewing his documentary you can go fit but you need to work hard and be regular for good results.
So, never forget to search for these best exercise videos on Netflix. I am sure one among all the above-mentioned workout videos on Netflix is definitely going to work for you. You can also go through this video. The fitness demonstration is of the famous Indian Actor cum model Shilpa Shetty.
Fitness Accessories You must be looking for.
Music is a must during workouts
Conclusion exercise videos on Netflix
Exercise videos on Netflix are definitely going to help you achieve fitness. You need not require an intense workout like professional bodybuilders and gymnasts. You only need daily and regular workouts. Nobody can guarantee your shape unless you are regular. It also depends upon person to person someone needs a good figure, some need a healthy body, and someone wants to get a professional builder. Workout videos on Netflix are definitely going to motivate you a lot to achieve your fitness.
One of the compulsory things is you should regularly watch Netflix workout videos for motivation and training. Otherwise making continuity is very difficult, you need to be regular and motivated. So, best of luck and get in shape. I hope these exercise videos on Netflix definitely help you a lot. Some of the links provided in the article are affiliate links. Kindly support us by purchasing through those links. This will help us in maintaining the website. If you have any ideas or links kindly comment below. Visit our affiliate disclosure here.
Also, visit Best workout tips for quick results.
Also, visit Workout bicep and tricep.
Best live net TV to enjoy all TV channels free.